Thank you for volunteering to coach!
Coach Development Sessions

The 2023 Coach clinics will be held on Sunday April 16th at the Tuscany School Gym. This year we are lucky to have the professional coaches from New Frontier Soccer delivering the clinic.
Details
Sunday April 16, 2023
Tuscany School Gym
1:00 – 2:00 U4-U6 Session
2:00 – 2:30 Welcome and Overview of the TCA League for new coaches
2:30 – 3:30 U7+ Session
Please register here for the free session or sessions that interest you.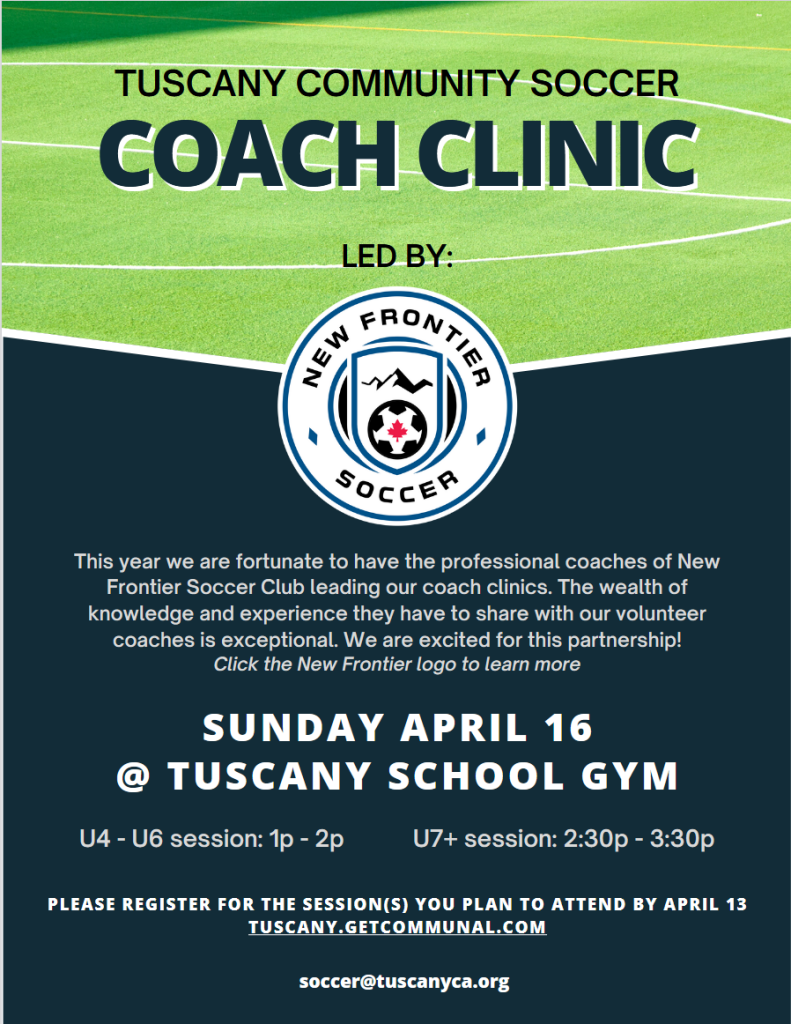 Equipment Pick-Up – April 16 @ the Tuscany Club (outside)

Important Dates 2023
Feb 1 – 15 – Coach registration
Early April – team rosters should be available
mid April – Equipment pick-up and coaches clinic
April 22 – Season starts
May 7- Photo Day! Team & individual photos at the Tuscany Club
June 24 – Season ends- last game
June 24 – Equipment return 10:30a – Noon, outside at the Tuscany Club
Coaches Guide
The full and detailed coaches guide for 2023 is available here: http://soccer.tuscanyca.org/wp-content/uploads/2022/03/Coach-Information-package-2022.pdf
Team Rosters
Instructions on how to view your team roster will be sent by April 10. Please contact soccer@tuscanyca.org if you do not receive the email.
Fields and Schedules
2023 Fields & Schedules will be posted soon!
—->> 2021 Field assignments are here (pdf) <<—-
Practice Guidelines
Other Resources